Challenges & Events
Register before January 14th to participate in "Step Up in 2019!"
Pick Your Challenge!
Take your steps for pride and prizes, including the grand prize of a $250 gift card for each challenge level! Each day you reach your step goal, you are entered in the drawing.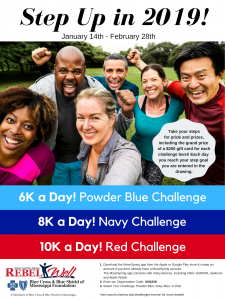 1. Download the MoveSpring app from the Apple or Google Play store & create an account if you don't already have a MoveSpring account. The MoveSpring app connects with many devices, including Fitbit, GARMIN, Jawbone and Apple Watch.
2. Enter our Organization Code: UM1848
3. Select Your Challenge: Powder Blue, Navy Blue, or Red!
If you have any questions or concerns regarding the MoveSpring app, feel free to visit the MoveSpring website and chat with a representative.
Supplement your group fitness and gym workouts with steps throughout the day!